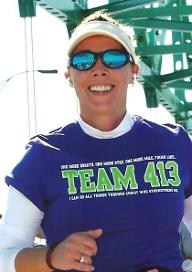 Where are you from?

Port Orange, Fl

Current P.R.

5:42

Typical pace

12:00-13:00 intervals


Number of marathons

6

Occupation

Real Estate Agent; Teacher; RN

Favorite marathon

Chicago and Marine Corp

Hobbies

Running, Coaching volleyball

Favorite Running Food

Honey stinger gels

What are you reading now?

The Gospel by JD Greear

Who do you train with?

Galloway group

Personal goals

To Always finish upright and strongJ

A quotation you like…

"Fear the training, not the race"

Why do you run?

I enjoy running to send time with friends that have similar goals, and I have also enjoyed getting involved with TEAM RWB. Team RWB is an organization that connects veterans to our community through friendships and exercise..

Describe your best marathon memory.

My favorite race was my first marathon- Chicago 2011. There was such crowd support. It felt like the whole city was cheering for you. It was a beautiful time of year to see the leaves change and have cooler temperatures. The course was flat and always new--No out and back in Chicago!

Why do you pace?

I have enjoyed helping to pace my weekly running group. I thought it would be great to pace during a race and help people meet their goals.






Why should someone run in your pace group?

I have experience and am very consistent with my pacing. I like to chit chat and get to know different people. It makes the time and miles go by quicker.

Any tips for runners about to join your group?

Don't try anything new on marathon day that you have not done in training. Stay on top of your nutrition and fluids.

Anything else you'd like to share?

I have been married for almost 20 years—to celebrate our 20th anniversary my husband is taking me to Paris, France where I will run the Paris Marathon in 2015. So excited!

What philanthropic activities do you have?

Besides teaching at my school, I also work with an 8th grade girls group on a weekly basis. I have worked at the National Blind Convention. Raised money for the American Heart Association, and helped with my school's gala to raise funds for a new computer lab and library.