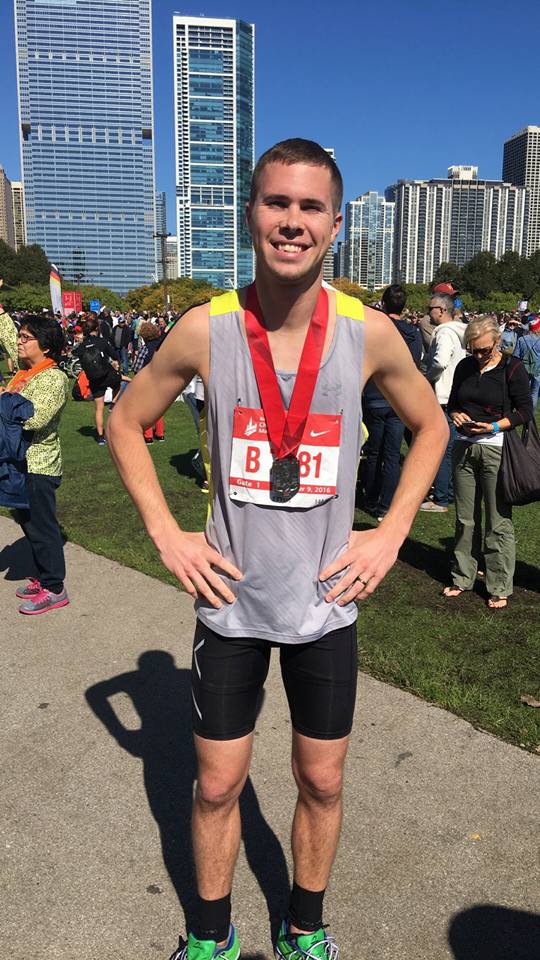 Where are you from?

Edmond, OK

Current P.R.

3:07:55

Typical pace

7:30 / mile

Number of marathons

20

Occupation

High School Math Teacher/Cross Country Coach

Favorite marathon

Houston Marathon

Hobbies

Running, golfing and spending time with friends

Favorite Running Food

Honey Stinger Waffles

What are you reading now?

Real Life Discipleship

Who do you train with?

By Myself

Personal goals

Have a Family

A quotation you like…

Count it all joy, my brothers, when you meet trials of various kinds, for you know the testing of your faith produces endurance.

Why do you run?

Running is a way for me to think about life and count my blessings. It has allowed me to see the gift I have to compete and help others.

Describe your best marathon memory.

My favorite marathon memory was my first negative split race. I ran in the Des Moines Marathon, and for the first time I felt like I never experienced fatigue in the marathon distance. My last 3 miles were my fastest by a significant amount and it was exciting coming across the finish line as if it were a race to the finish.

Why do you pace?

I like pacing marathons to meet and make new running friends and to help other runners accomplish their goals.

Tell us your best pacing experience.

My best pacing experience came when I had man run with me the entirety of the race, and was able to qualify for the Boston Marathon.

Why should someone run in your pace group?

If it gets tough out on the course, I think to myself, these runners are counting on me to help them finish. That is humbling. Know that if you run with me, I will run a smart race and give you the best opportunity to get to the finish line.

Any tips for runners about to join your group?

I always encourage other runners to run your own race. If that means you tucking in behind a pacer, then do it. Running with a pacer can take the mental side out of it. Trust us to run the pace and get you to the finish line.

Anything else you'd like to share?

I am always traveling and running races around the country. I wouldn't be able to do this with my wife's support and encouragement. She is the reason I have the privilege of doing what I do.

What philanthropic activities do you have?

I take the time to disciple young male students of mine, helping them understand how to live a life pleasing to God.