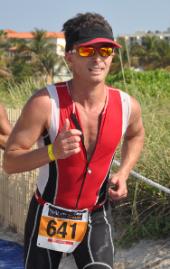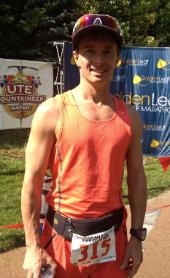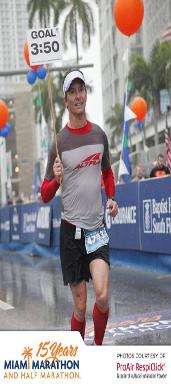 Where are you from?

Palm Beach Gardens, FL

Current P.R.

3:15

Typical pace

7:40

Number of marathons

22

Occupation

Chief Technology Officer

Favorite marathon

Boston

Hobbies

Outdoors, snow sports, mountain biking

Favorite Running Food

Clif Bars

What are you reading now?

HIGH: Stories of Survival by Clint Willis

Who do you train with?

Friends and triathletes

Personal goals

Ironman Switzerland, 100mi ultra,

Leadville 100 mtb race

Sub 3:10 marathon

A quotation you like…

I hated every minute of training, but I said, "Don't quit. Suffer now and live the rest of your life as a champion." ~Muhammad Ali

Why do you run?

I run for fitness, to surround myself with positive people and to serve as an example for my son.

Describe your best marathon memory.

The final year of Las Vegas' point-to-point marathon route had runners come from 26 miles away and run into town. At mile 25 you were told to drink up, this was the last water stop. At mile 26, Air Force personnel in Class A dress white uniforms served runner friendly water & drinks while being surrounded by USAF Thunderbird posters and support crew. What an amazing surprise!

Why do you pace?

I enjoy helping others reach their goals, I have a knack for motivating other with logic, talking people through tough situations and employing humor as a distraction.

Tell us your best pacing experience.

I have paced friends in races from 5k to marathons – the thanks I receive when we reach the finish line in the right amount of time is fantastic!

Why should someone run in your pace group?

If you want to enjoy your experience and cross the finish line with a smile and a goal accomplished ~ I'll provide timely advice, encouragement and laughs for the 26.2 miles you've chosen to run.

Any tips for runners about to join your group?

Come with a willingness to give in proportion to what you've trained for and grow as an athlete. Each race is either a PR or a lesson.

What philanthropic activities do you have?

Boy Scout Adult Leader; Local race emcee, DJ and volunteer, blood donor.