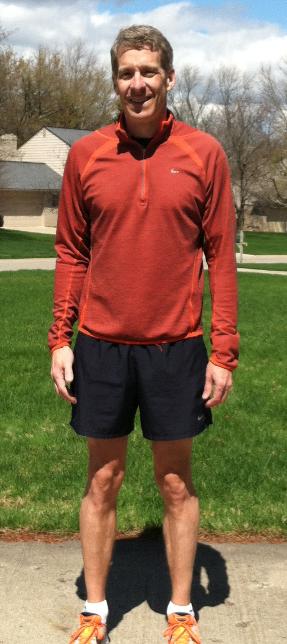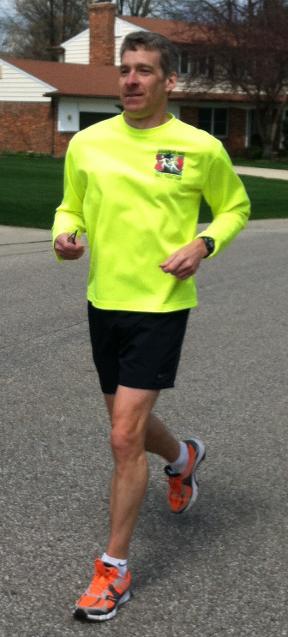 Where are you from?

Rochester Hills, Michigan

Current P.R.

3:15:03, Boston 2013

Typical pace

8:30-9:00 for LSD, 7:00 for tempo, 6:20 intervals

Number of marathons

7

Occupation

Automotive Engineer

Favorite marathon

Boston

Hobbies

Reading, house projects, road biking, tennis

Favorite Running Food

Gu – Vanilla Bean!

What are you reading now?

A biography of Dean Acheson, Sec of State under Truman. Just finished Men at Work, about the craft of baseball. Before that, The Essential Sheehan, by George Sheehan of course.

Who do you train with?

ROYOL, a neighborhood running group in Rochester Hills

Personal goals

A 3:00 marathon, triathlons if I ever learn to swim

A quotation you like…

If it doesn't kill you it makes you stronger.

Why do you run?

I run because it removes stress, and for fitness. It makes me feel better, it enables me to eat more, and now I've possibly become obsessed..

Describe your best marathon memory.

My fourth marathon, Indianapolis Monumental in 2011, when I finally broke through and got it right. Cruising past mile 20 and beyond, not hitting the "wall", it was a revelation, and fun! And qualifying for Boston felt awesome!

Why do you pace?

I feel it will be fun, and I'd like to give back and help other runners achieve marathon success.

Why should someone run in your pace group?

I will achieve a consistent pace, keep you on track, and help make your marathon a success!

Any tips for runners about to join your group?

Besides training, marathon success requires carb loading and hydration. Don't forget to carb load for several days before, and plan your fueling strategy for race day. Hanson's Marathon Method is a good guide.

Anything else you'd like to share?

I'm divorced, with two boys ages 17 & 12. I went to the University of Michigan, so I'm a Wolverine fan.

What philanthropic activities do you have?

I donate to Leader Dogs for the Blind, Hope Water Project, and Charlotte's Wings (a local charity that provides children's books to hospitals). I also give to my ex every month..