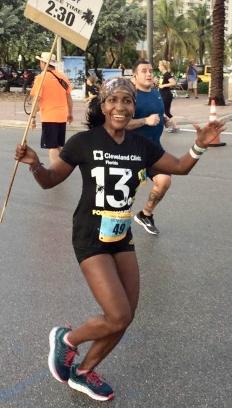 Where are you from?

Caracas -Venezuela

Current P.R.

4:08

Typical pace

Easy run 9:30-10:00 Pace

Number of marathons

5

Occupation

Accountant

Favorite marathon

New York City Marathon

Hobbies

Dancing

Favorite Running Food

Tostones (Fry plantains)

What are you reading now?

Daring Greatly

Who do you train with?

Friends in Training Group

Personal goals

Run Boston Marathon

A quotation you like…

"Run The Mile you're In"

Why do you run?

Everything that I deem overwhelming seems manageable after a good run. It is when I am most aware that yes, today, I am alive; I am living.

Describe your best marathon memory.

Miami Marathon 2016 it was my first marathon. I ran it and had barely started running I remember that five weeks the marathon I met coach Luis Aguilar and he volunteered to help me putting together a five weeks training plan for me. It was also the most difficult thing I have ever done in my life. Before I crossed the start line I was really, really, really nervous Running your first marathon is an overwhelming experience. It's all things incredible and equally painful.

Why do you pace?

To help other runners to achieve their goals since running gives us so much, it seems only right to try and give a little back

Tell us your best pacing experience.

Having a 15 years old girl to achieved her goal that it was to complete her first half marathon.

Why should someone run in your pace group?

It's just one of the best groups. We will be running as a team helping each other and having fun at the same time.

Any tips for runners about to join your group?

Relax and have fun running. The day of the race is a day of celebration

Anything else you'd like to share?

I love running. They are moments in time when running allows you to see how wonderful your life is.

What philanthropic activities do you have?

Every year I collect toys and send them to Venezuela for children in need.