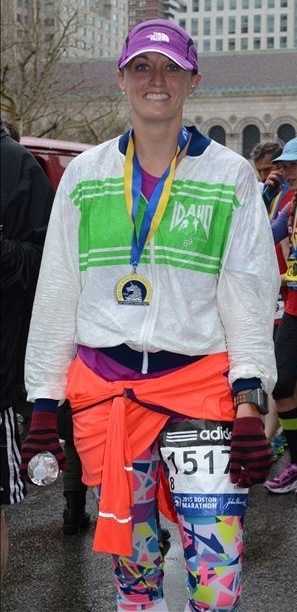 Where are you from?

Brigham City, Utah

Current P.R.

3:28:42

Typical pace

8-8:30 min/mile

Number of marathons

37

Occupation

Head Conservation Gardener

Favorite marathon

St. George Utah

Hobbies

Hiking, biking, playing the piano, cooking, gardening, and spending time with my husband and daughter.

Favorite Running Food

Clif Bars

What are you reading now?

My Life on the Run by Bart Yasso

Who do you train with?

My 4 year old daughter (I push her in the stroller)

Personal goals

Run a 100 miler, Run over 100 marathons, and hit a new PR of 3:20

A quotation you like…

It never gets easier. You just get stronger.

Why do you run?

For my sanity, health, and hopeless love addiction to running. Oh and of course for fun!

Describe your best marathon memory.

Boston was amazing, everything about it. But most recently the last 3 miles of my 3 marathons in 3 states in 3 days was the best. I felt like I was on the top of the world, so much energy and joy! I sprinted across the finish feeling amazing and was ready for a 4th marathon!

Why do you pace?

Because I love running and I want to share that with others. I want to help them reach their goals because accomplishing more than you think you could is the greatest feeling in the world.

Tell us your best pacing experience.

My best pacing experience was in Moab. I had a group from NYC and Chicago run the entire race with me till they took off the last mile. At the finish they were so happy they beat their goals and told my daughter I was a rock star.

Why should someone run in your pace group?

I am enthusiastic and fun and will take your mind off the pain with a funny story or whatever if you are struggling. I have hit the wall enough to know! I want to help others reach their goals and have fun doing it!

Any tips for runners about to join your group?

Lets go have some fun! Stick with the pace and be sure to conserve your energy in the beginning and it will be a great race!

Anything else you'd like to share?

I LOVE RUNNING! I want the world to love it!

What philanthropic activities do you have?

I love to run with those new to running and go their pace, give them tips, and make friends! I love to volunteer in gardening and the outdoors. I just like to help other people and see the smile on their faces.