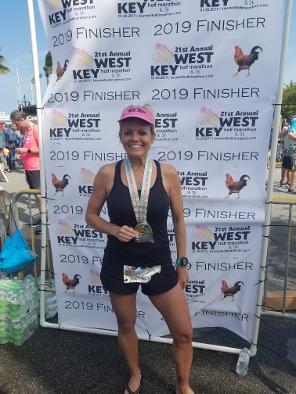 Where are you from?

Toledo, OH

Current P.R.

3:57

Typical pace

9 minute miles

Number of marathons

10

Occupation

Field Manager

Favorite marathon

Honolulu Marathon

Hobbies

Running, vacations

Favorite Running Food

Animal crackers

What are you reading now?

Who do you train with?

Columbus Road Runners, Project 42

Personal goals

To run a 100 mile ultra-marathon

A quotation you like…

One of my favorite quotes and I use every day is, Never Give Up

Why do you run?

I run because I can! I feel empowered, confident and enjoy the "runners high" that comes afterwards. I run as I love the comradery and watching others achieve their goals!

Describe your best marathon memory.

My best marathon memory would be running in the Honolulu Marathon. This was my first marathon and by far the largest. There is not a time limit so you see people from all over the world run it. Oh and what a beautiful race!

Why do you pace?

I love to pace as I enjoy helping others cross the finish line. I enjoy watching and talking with them along the run and help them forget time and get in a zone to meet their goals.

Tell us your best pacing experience.

My best pacing experience would be my first pacing experience. There was so much to learn, my nerves set in but pacing taught me so much about me and why I love pacing. I enjoy motivating others and I love to run! It has also helped me become a better more consistent runner!

Why should someone run in your pace group?

If you love motivation, want to finish and want that extra push then come run and pace with me and a bunch of other motivated individuals. We will laugh, maybe even cry a little!

Any tips for runners about to join your group?

-Hydrate, hydrate and hydrate some more! Run because you love and embrace it!

Anything else you'd like to share?

I do like to talk a lot during my pacing! I want to get to know each of you and let the miles melt away! But if you want your space then I will give it to you and push you through to the finish!

What philanthropic activities do you have?

I enjoy volunteering with Vets, and helping out with local and distant food banks.