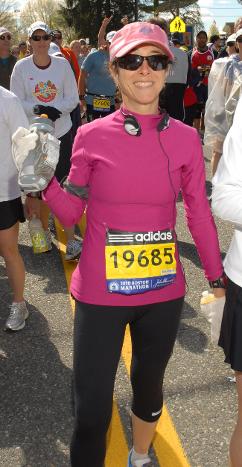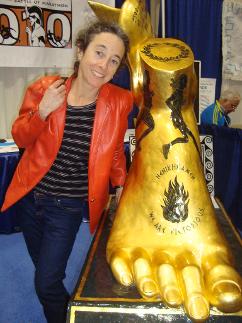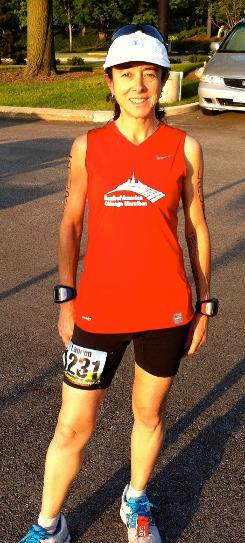 Where are you from?

Chicago, IL

Current P.R.

3:36 Indy 2010

Typical pace

9 minute miles when I pace for marathon training

Number of marathons

18 full and countless halves over the last 25 years

Occupation

Teacher

Favorite marathon

Boston & Chicago

Hobbies

Running, Nutrition, Gardening

Favorite Running Food

Hammer Products, Bonk Bars & Shot Bloks

What are you reading now?

Many Lives, Many Masters

Who do you train with?

CARA

Personal goals

To run a 3:27 marathon for my daughter whose birthday is March 27th

A quotation you like…

If you do what you've always done you will get what you've always gotten

Why do you run?

Running makes me feel great, energized, strong and alive!

Describe your best marathon memory.

The first time I ran Boston in 2010 I felt like I was in a groove the entire race and ran it in my goal of 3:42 which was 2 hours faster than my first marathon 20 years before.

Why do you pace?

It's great fun and I'm good at sticking to a pace. I have fun meeting people from all over and It's a blast to see people cross the finish line. It's a totally inspiring experience!

Tell us your best pacing experience.

Last year at the Chicago marathon I paced the 3:55 group and hit my splits right on and was totally in sync with the woman I paced with. We had a blast!

Why should someone run in your pace group?

I will keep you motivated and on pace and with a smile! I am very particular about hitting splits right on.

Any tips for runners about to join your group?

Stand tall, stay strong and breath comfortably and if it hurts tell me and I'll talk you through it! We'll get there together.

Anything else you'd like to share?

I'm very passionate about keeping pace and helping runners achieve their goals.

What philanthropic activities do you have?

I support and have fostered for animal rescue groups. I recently adopted a retired racing greyhound who is my running buddy for short distances. She runs as fast as I want! I also coach Girls on the Run!