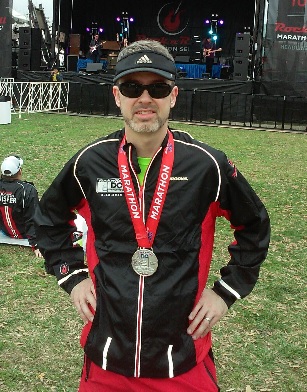 Where are you from?

Minneapolis, MN / Currently in Brielle, NJ

Current P.R.

3:14:59

Typical pace

4:20

Number of marathons

25+

Occupation

LED lighting Technology Head

Favorite marathon

Twin Cities Marathon

Hobbies

Green Technology

Favorite Running Food

Snickers

What are you reading now?

Shackleton's Way

Who do you train with?

My 5-year old in a jogger

Personal goals

Start a non-profit organization

A quotation you like…

Think it. Say it. Do it.

Why do you run?

It's an exercise that I can do almost anytime anywhere and clears my mind.

Describe your best marathon memory.

Running 50k with Connie Gardner across New Jersey and hearing about her amazing near death ultra-running experiences.

Why do you pace?

Running with a group is always more fun and lets you meet lots of great people.

Why should someone run in your pace group?

I am committed to support you all along the way.

Any tips for runners about to join your group?

Set an achievable goal and strive to beat it.

Anything else you'd like to share?

Chronic IT Band Syndrome caused me to quit running several years ago. I made a commitment to myself that I would find a solution. I did and want to share it with others.

What philanthropic activities do you have?

I built a free website www.ITBandSyndrome.com to help runners around the world overcome IT Band Syndrome and continue their love for running.