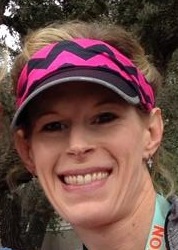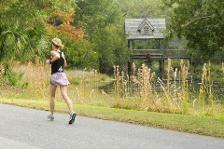 Where are you from?

Greer, SC

Current P.R.

3:26

Typical pace

8 min miles

Number of marathons

7

Occupation

Many!! homeschooling mom of 4, nurse, director of homeschooling group, gymnastics mom/taxi....

Favorite marathon

Cincinatti Flying Pigs-The most fun and crowd supported race ever:)

Hobbies

other than running....do I have time for that...oh participating and training for triathlons and cheering for my husband as he does triathlons. And encouraging my children in anything they do.

Favorite Running Food

I eat clean as much as possible. Favorite pre run food: banana and almond butter and a strong cup of coffee

Favorite post run food:

farm fresh egg fried and a sweet potato and a second cup of strong coffee

post marathon treat:

dark chocolate covered almonds and a cold diet coke(my weakness!)

What are you reading now?

Lots of great books that the kids and I read together.

"Do Hard Things," "Carry on Mr. Bowditch," and for myself, "Undaunted"

Who do you train with?

a fabulous group of friends who motivate each other to rise early and press on for mile after mile!

Personal goals

I would love to run a marathon in each of the 50 states. I've qualified for Boston 6 times and have yet to do it. So that's on the list. Also I look forward to the day when I can run a marathon with one of my children.

A quotation you like…

from "Do Hard Things" "It's possible to be so concerned with what has happened in the past, or so caught up in what's happening in the present, that we pay no attention to what God has for us next."

Phil. 3:13-14 "But one thing I do: Forgetting what is behind and straining toward what is ahead, I press on toward the goal to win the prize for which God has called me heavenward in Christ Jesus."

Why do you run?

I run because I can!! I run because I love it!! I run because it makes me feel so good, there is no greater feeling than that Runner's High!!

Describe your best marathon memory.

My best marathon memory...I actually have a few:) My first marathon was in 2000, San Diego Rock n Roll Marathon. There is truly no greater feeling than crossing that marathon finish line for the first time. The amazing feelings of accomplishment and pride and complete exhaustion feel so good. My next favorite marathon memory was in 2012 when I got a marathon PR by minutes at Kiawah Marathon. My girlfriends allowed my husband and I to tag along for their race because my Marathon for that season, INGNYC, was cancelled. I ran Kiawah with an attitude of pure joy. Joy during cheering for others. Joy as my feet trotted along that gorgeous route. Joy as I met up with a great fella and gal who pulled me along to get a PR by 15 minutes.

Why do you pace?

And that's why I pace. So that I can be like the guy and gal who pulled me along to reach a goal I didn't really think possible! So that I can be a cheerleader for someone desiring to reach Boston Qualifying or a Personal Best...is why I pace!!

Tell us your best pacing experience.

My favorite pacing is when I have the joy of running beside one of my twin sons as they try to reach a race goal. I know they can and I don't let them give in to those voices of self doubt that come from fatigue and jitters. Press on!!!

Why should someone run in your pace group?

Run in my pace group if you want to be with someone who genuinely cares and cares enough to push you!!!

Any tips for runners about to join your group?

Be ready for fun! Running to me is a joy and a blessing and to be experienced to the fullest!!!

Anything else you'd like to share?

What philanthropic activities do you have?

Every year our family participates in the March of Dimes March for Babies because our youngest daughter was born at 27 weeks weighing only 1 pound 1 ounce. We enjoy raising funds for babies like our miracle girl.