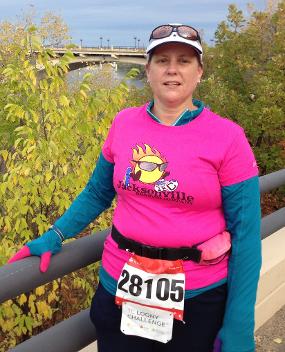 Where are you from?

Jacksonville, FL

Current P.R.

½ marathon: 3:02

Number of ½ marathons

20

Favorite ½ marathon

Flying Pirate half marathon in Outer Banks, NC

Hobbies

Running, geocaching, scrapbooking and card making

Favorite Running Food

Honey Stingers and Suzy Snacks

What are you reading now?

I just finished "The Wedding Bees" by

Who do you train with?

I train with my sister and Brother-in-law at Jax Galloway Group

Personal goals

A quotation you like…

It doesn't matter how SLOW you go, as long as you don't STOP!

Why do you run?

I run to stay healthy, in mind and body. It's also a great social time with my family and friends.

Describe your best ½ marathon memory.

My best marathon memory was finishing my first 1/2 marathon.

Why do you pace?

I enjoy helping runners to realize their goals and finish races. I have been pacing for 2 years.

Why should someone run in your pace group?

Together we can make it to the finish line!