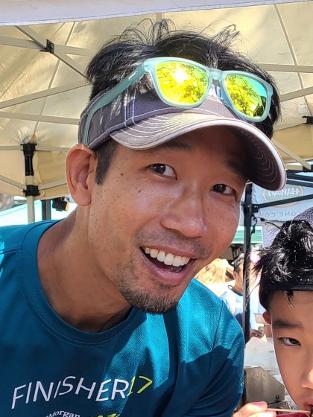 Where are you from?

My love for distance running started as a kid in Hawaii, and continues now on the other side of the country in NYC

Current P.R.

After a long hiatus, only very recently returned to marathon (and ultra) distances. P.R. from past year was 3:31 during a hilariously frozen windy icy event

Typical pace

8:00 / mile

Number of marathons

< 10

Occupation

Software

Favorite marathon

Honolulu

Hobbies

Outrigger Canoe, Sketch Doodling

Favorite Running Food

Pure fruit bars (marathon), salty potato chips (ultra)

What are you reading now?

A Brief History of Time

Who do you train with?

Anyone willing to endure my company

Personal goals

To encourage myself and others to continually test our comfort boundaries, learn and grow.

A quotation you like…

"Yesterday is history, tomorrow is a mystery, but today is a gift. That is why it is called the present."

Why do you run?

As a species, we didn't evolve to sit in a chair for hours on end. We are at our best (physically, mentally, ideologically) when we strive to discover our untapped potential, and connect with others from all backgrounds along the way.

Describe your best marathon memory.

My favorite marathon memory was not my best finish, rather my very worst. The hottest NYC Marathon on record, with oppressive humidity that prevented any evaporative cooling, even pacer buddies succumbed to unexpected cramping. I naively pushed an aggressive pace, hoping to reach the finish before falling apart, but my gamble fell short at Mile 23 as severe cramping took hold. While immobilized on the sideline trying to recover and hobble onward, absolute strangers held out their hand, encouraged me to not surrender, massaged my dead calves, gave me their water, and cheered each feeble step until I eventually regained enough mobility to barely finish. Humanity is alive, and these moments affirm the optimism we need against negative headlines.

Why do you pace?

Running is often cast as an individual sport, understandably personalized, but it doesn't have to be an isolation experience. Connect with others on common ground, trek together, and deepen the journey – that's what pacing enables, a collective goal and an extended team mentality.

Tell us your best pacing experience.

Favorite pacing memory comes from my very first marathon as a naïve teenager. I took off easily at a quick pace, sailing past pacer groups, including one led by a guy wearing a Viking helmet. They faded into the background as I coasted along, unprepared for the proverbial wall after Mile 20. In true Tortoise and Hare fashion, the steady Viking pacer eventually caught me while I paused to stretch, and I thankfully followed his reliable lead (with his helmet bobbing visibly above the crowd, encouraging us onward) to the finish line.

Why should someone run in your pace group?

The end goal is only a sliver of the pie, we're going to savor every incremental triumph that propels us onward. Enjoy the journey, our best running memories often don't involve the finish line itself.

Any tips for runners about to join your group?

Forgive the cliché, but truly: Enjoy the journey, it is far more fulfilling than any perceived destination. Let's have fun making these memories!

Anything else you'd like to share?

What philanthropic activities do you have?

Longtime volunteer with New York Outrigger, a non-profit outreach organization dedicated to promoting equitable access to NYC's amazing waterways via the sport and ancient seafaring culture of outrigger canoeing (and SUP), with a focus on our adaptive athlete program (visually impaired paddlers). Despite leading their training as coach, it is far more often that they teach me true lessons about life - perseverance, inspiration, empathy, and optimism. The challenge of sport, and resulting human connectivity, are the ingredients that enrich our journey.