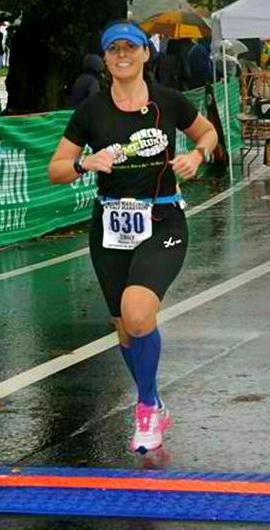 Where are you from?

Charlotte, NC

Current P.R.

3:33

Typical pace

8:30

Number of marathons

25

Occupation

Researcher in the field of Organization Development

Favorite marathon

Ridge to Bridge

Hobbies

Traveling and eating delicious vegan cuisine

Favorite Running Food

What are you reading now?

Chi Running

Who do you train with?

Charlotte Running Club

Personal goals

Run a marathon (or ultra) in all 50 states

A quotation you like…

"I may not have gone where I intended to go, but I think I have ended up where I needed to be."

Why do you run?

Running makes me feel alive; it connects my body and soul. My time on the trail/road is where I check in with myself. When I achieve goals in my running it reinforces that I can achieve other goals in life.

Describe your best marathon memory.

Not gonna lie, it was qualifying for Boston. I had worked so hard in the months leading up to my goal race and experiencing the pain and joy of it all coming together that morning was the highlight of my brief running "career." When I ran my first race (Chicago 2008), with a stress fracture, finishing in 5:31, I didn't even know what qualifying for Boston meant. But I've been inspired and encouraged by so many wonderful people to go after the big, scary goal of getting a BQ. It was their support that carried me through the final 10k of my qualifying race and they will be with me in spirit as I toe the start line in Hopkinton in April.

Why do you pace?

Having come a long ways myself, I attribute a lot of my success to the mentoring and support of a great many great runners I have met along the way. So I want to pay it forward and encourage people along their journey, whether the goal is to finish their first marathon or hit a certain time goal.

Tell us your best pacing experience.

I had the honor of pacing 3 women I had coached for months who were hoping to break 4:30 at the inaugural Savannah Rock 'n Roll marathon. Sharing in their success really brought it home to me why I coach and pace, and really why I run. Even though it's really just a number on a clock, the experience was transformative and I was inspired by their determination and heart.

Why should someone run in your pace group?

I asked one of those women what to say here and this was her response "You give clear communication before the race as to your pacing plan and you stick by it throughout the race. You run a very even race, from start to finish. You're fun and engaging, easily providing much-needed conversation or encouragement when it's most needed. You're open, talkative, and confident, instilling your teammates with confidence as well."

Any tips for runners about to join your group?

There is so much to think about on race day but I encourage my runners to relax and enjoy it as much as possible. The marathon is the culmination of all their hard work and preparation so although it's a challenge, it should be fun too!






What philanthropic activities do you have?

Among other things, I enjoy volunteering at races and with organizations that inspire young runners. I coached with Girls on the Run for a few years then some of my friends started a similar program called Let Me Run for boys, which is expanding across the country very quickly.