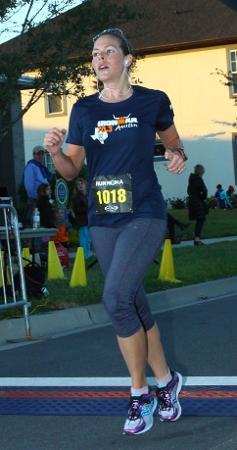 Where are you from?

Orlando, FL

Current P.R.

3:42

Typical pace

9:00

Number of marathons

11

Occupation

Payroll Supervisor

Favorite marathon

Town of Celebration / Space Coast / San Francisco, I can't choose!

Hobbies

Running, Biking, Swimming

Favorite Running Food

Bonk Breaker (Gluten Free)

What are you reading now?

Runners World

Who do you train with?

Pumpkin the Vizsla (my dog)

Personal goals

Qualify for Boston, Complete a full Ironman (Nov '16)

A quotation you like…

"To give anything less than your best is to sacrifice the gift." – Steve Prefontaine

Why do you run?

I love a good challenge, and there's always room for improvement with running. It's a great stress reliever, too!

Describe your best marathon memory.

I ran my first marathon with my husband before we were married, and we crossed the finish line together.

Why do you pace?

I love to help others reach their goals!

Tell us your best pacing experience.

I helped a former Army sergeant complete his first half-marathon within his goal time. He was so happy and chipper for the first 9 miles, and then I dragged him through the last 4!

Why should someone run in your pace group?

I will not let you go out too fast, and I'll help you get in under your goal time. We might even have some fun along the way.

Any tips for runners about to join your group?

Hydrate!

Anything else you'd like to share?

Thank your volunteers. They don't get paid to wake up in the wee hours of the morning.

What philanthropic activities do you have?

I was a board member & Vice President of the Orlando Runners Club for 6 years. We organized races and volunteer at local events. The club offers scholarships to high school runners headed off to college, and we support a Japanese runner exchange program with Orlando's Sister City, Urayasu.

I also enjoy raising money cycling for events such as the MS 150 and Ride 4 Ronald.