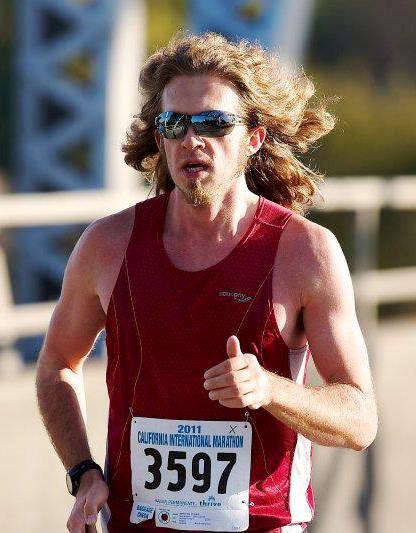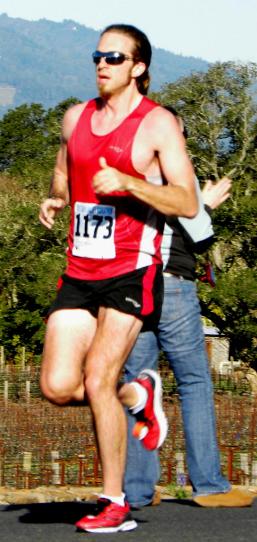 Where are you from?

Northern Nevada

Current P.R.

2:34:53 at the 2014 Napa Marathon and 2:35:59 at the 2014 Boston Marathon


Typical pace

Anywhere from mid-5-minute miles to mid-6-minute miles depending on the race.

Number of marathons

60 (and counting!)

Occupation

Magazine editor, travel writer, and photographer

Favorite marathon

Too many to list! Definitely Boston for the prestige, New York for the crowds, Lake Tahoe for the scenery, and California International because I PRed there.

Hobbies

Photography, backpacking, travel, mountain biking, and anything that gets me outside

Favorite Running Food

Tahoe Trail Bars, they're made locally and taste great!

What are you reading now?

Running on Empty by Marshall Ulrich (I recently interviewed Mr. Ulrich for work and he was kind enough to send me his book!)

Who do you train with?

Almost always alone

Personal goals

Running: A sub-2:40 marathon. Professionally: I'd like to write a book someday.

A quotation you like…

"You won't lag behind, because you'll have the speed. You'll pass the whole gang and you'll soon take the lead." ~Dr. Seuss

Why do you run?

Running has shown me that anything is possible if you work hard enough to attain it. I run because I cannot imagine a life without running in it.

Describe your best marathon memory.

There are so many! But if I have to choose…My mom has been my biggest supporters for as long as I can remember and has been to every race I've run. The 2011 New York City Marathon fell on mom's birthday and she said all she wanted from me was a PR in the race. I ran strong, kicked hard through Central Park, and bested my previous PR by five minutes.

Why do you pace?

The handful of times I've paced anyone it has been friends who are just getting into running. I like being there to encourage and support them, and to remind them that the most important part of running is to have fun.

Tell us your best pacing experience.

At the last minute before the start of a 10K I decided to pace a friend who was very nervous about running her first race. I had planned to compete in the race, but seeing her so stressed made it clear that I had to run with her instead. After the finish, she thanked me for not letting her walk and for pushing her through the final mile. As it turned out, I could have easily won, but crossing the finish line with her and being a part of her accomplishment was worth so much more.

Why should someone run in your pace group?

I'm very easy going, quick with a joke, and have been told I have a beautiful smile when I run. I want everyone to enjoy running and racing as much as I do, and if you run with me, I'll make sure that happens.

Any tips for runners about to join your group?

I always remind people to think about the hundreds and hundreds of miles they've run in preparation for a marathon and what an accomplishment that is. A marathon is just a 26.2-mile victory lap.

Anything else you'd like to share?

Yes! But I'll save it for the folks who join my pace group.

What philanthropic activities do you have?

I've run the Boston Marathon on behalf of the American Cancer Society for three years and counting, raising donations and awareness to help in the fight against cancer.

I ran a marathon in 2011 that benefitted Mountain Circle Family Services, a Northern California-based charity that provides support and aid for foster children. After the race I became friends with its organizers at Mountain Circle and have played a major role in planning and growing the event since.

Whenever the opportunity to volunteer at a local race presents itself, I'm there. I especially like providing support and information for first-time and novice runners.