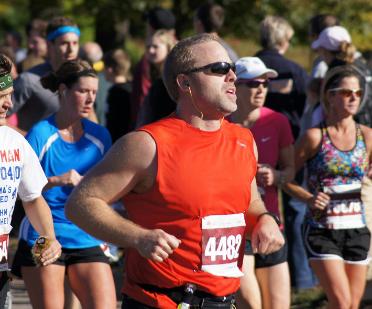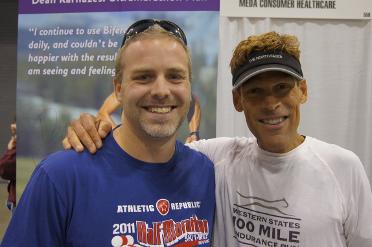 Where are you from?

Mandan ND

Current P.R.

½ - 1:39:29 Full – 4:08:39

Typical pace

8:15-8:45

Number of marathons

Full 2

½ -6

Occupation

I work in a Grocery Distribution Warehouse

Favorite marathon

Twin Cities

Hobbies

Running, Boating

Favorite Running Food

Post Race is Pizza and Nachos at Zorbaz – Pre Race- PB&J

What are you reading now?

Runners World

Who do you train with?

IPod and Garmin

Personal goals

Sub 4 hr marathon, 70.3

A quotation you like…

Run when you can, Walk if you have to, Crawl if you must, just never give up

Why do you run?

To stay healthy for my family and to challenge myself with what I once thought was impossible

Describe your best marathon memory.

Conquering the "WALL" of my 1st marathon- otherwise known as Summit Ave

Why do you pace?

The last 2 years I have ran with pace groups and had a blast now I just want to return the favor.






Why should someone run in your pace group?

To have fun and achieve your goals

Any tips for runners about to join your group?

Do not start out too fast, save it for the finish

Anything else you'd like to share?

I once weighed 300 lbs, and have lost 100lbs so if I can do this so can you

What philanthropic activities do you have?

Completed the 2012 GO FAR Challenge of the Friday Night 5k and Saturday morning marathon as a member of Team Determination. Raising $$ for The American Cancer Society and just learning how prevalent cancer is in just about everyone's life was an amazing and eye opening experience.