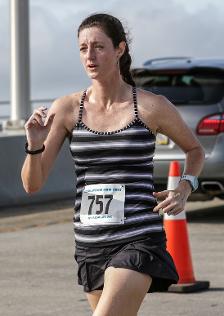 Where are you from?

Viera, FL

Current P.R.

3:46

Typical pace

8:00/mile

Number of marathons

15

Occupation

Brand Director & Designer for a flower catalog

Favorite marathon

Glass City Marathon, Toledo, OH

Hobbies

My Boston Terriers and working on the Space Coast Runner's newsletter

Favorite Running Food

Pizza – the day before the race and Vanilla Honey Stingers during

What are you reading now?

NY Post

Who do you train with?

My good friends Molly & Marie and Space Coast Runners

Personal goals

To keep running as fast as I can.

A quotation you like…

"Do what you can, with what you have, where you are." – Theodore Roosevelt

Why do you run?

To be fit and strong and for the fun of it.

Describe your best marathon memory.

Every marathon is great in some way, shape or form. You always walk away with a sense of accomplishment.

Why do you pace?

My first half marathon I ran with a pacer and it was one of the best experiences. I want to pay it forward and I love being with all the runners.

Tell us your best pacing experience.

Seeing positive feedback on Facebook after pacing my first race. The group was great so it was a sweet way to end the day.

Why should someone run in your pace group?

It will be fun!

Any tips for runners about to join your group?

Stay positive. You've put the hard work in to get to the race. Now it's time to run it.

What philanthropic activities do you have?

I'm race director for a 5K that benefits the local high school, Special Olympics of Brevard County and the Early Steps program. My husband and I also support children through Gospel for Asia.