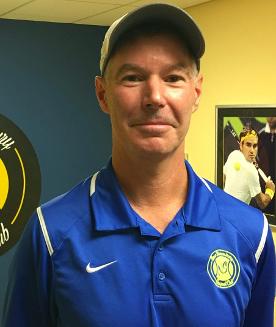 Where are you from?

Little Silver, NJ

Current P.R.

2:55 Full 1:22 Half

Typical pace

7:38-8:35

Number of marathons

32

Occupation

Former Tennis Professional- Club Owner

Favorite marathon

Chicago

Hobbies

Anything outside!

Favorite Running Food

Pasta and beer!

What are you reading now?

Running with the Buffaloes

Who do you train with?

Mostly those I coach

Personal goals

To still be running when I'm 80!

A quotation you like…

You can't coach desire!

Why do you run?

Fitness, comradery, competition!

Describe your best marathon memory.

Pacing my wife to a sub 4 hour in Hartford. To this day, that sticks out over any of my personal achievements.

Why do you pace?

Love seeing the smiles of those who meet their goals! Priceless!

Tell us your best pacing experience.

Every race I've paced has been great. Difficult to pick one specific race but once, not as an official pacer, I paced a friend at Boston who placed third in his age group that year. That was pretty special.

Why should someone run in your pace group?

Like any other good pacer, I'm good at being positive when things get tough and I'm great at hitting consistent paces throughout the race. I will NEVER go out too fast!!

Any tips for runners about to join your group?

Unfortunately, I can't control how someone's training has gone. My only advice is that I hope you, the runner, chose a realistic goal pace for race day! Most people that don't meet their goal simply were over-reaching from the beginning.

Anything else you'd like to share?

This is YOUR race. I'm just along for the ride…Thanks for letting me spend the race with you!

What philanthropic activities do you have?

As a local business owner, most of my donations are to many of our local schools and other local charities. Since tennis is my primary job, helping those less fortunate who otherwise can't afford to play is always a priority of mine!