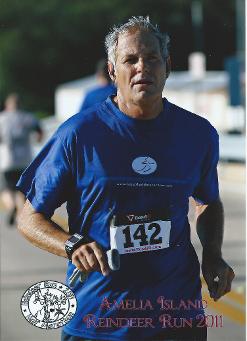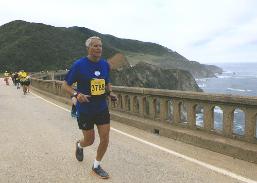 Where are you from?

Syracuse, NY, Yulee, Florida since 1968

Current P.R.

Marathon 3:14:23

Typical pace

Racing 8-9 Min./mile: Training 10-12 Min./mile

Number of marathons

32

Occupation

Retired Building Construction Teacher, H. S.

Favorite marathon

Big Sur/The Donna

Hobbies

Backpacking, Camping, Pen Making, Am. Civil War, Flying, Biking, Woodworking, and Husband.

Favorite Running Food

Pretzels/M&M's/Hard Candies

What are you reading now?

The Fabric of the Cosmos

Who do you train with?

Amelia Island Runners

Personal goals

Survive to where I get the award at the start of the race.

A quotation you like…

You get out of life what you put into it

Why do you run?

Health/Social/Friendships/Ego/Challenge/Impetus to Travel/Cool Medals

Describe your best marathon memory.

Topping out at Hurricane Point at Big Sur, 2013

Finishing the Boston Marathon, 1991

Why do you pace?

Fun/Meet great runners/Free Entry/Relaxed Marathons/Coaching/A lot of good looking women chasing me.

Tell us your best pacing experience.

I had a runner ask me how old I was (68) and he said he hoped he was still, then he paused, and said "running " when he was my age". He started to say alive.

Why should someone run in your pace group?

I do the work and you can concentrate on the running. You will be with great people who will help you get to the finish line. It will make it easier and more fun. And you may make some friends.

Any tips for runners about to join your group?

Dress for the finish. Drink at "EVERY" water stop. Don't do anything different during the race than you have done in practice. Double knot your shoes. Tip the pacer well.

Anything else you'd like to share?

Enjoy the experience and celebrate your finish, regardless of your time.

What philanthropic activities do you have?

Pacer for the Donna 26.2, Run to End Breast Cancer.

Wolfson Challenge. Relay for Life.