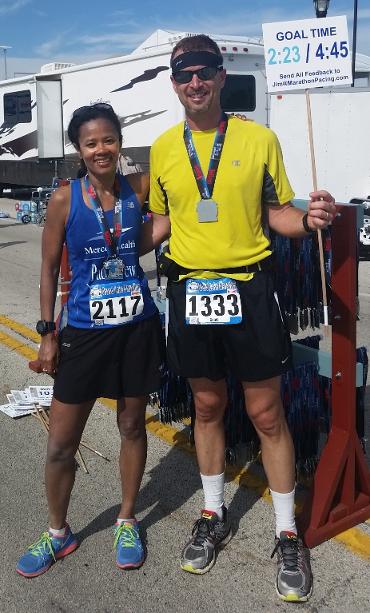 Caleb ran with Pacer Alisa at the Grand Lake Marathon!
Where are you from?

Lancaster, OH


Current P.R.

3:40:30

Typical pace

8:50-8:55 when training

Number of marathons

10 and 1 Ultra

Occupation

USAF Retired


Favorite marathon

NikeWomen's

Hobbies

Adventure travel, any kind of cardio exercise esp endurance running, participating in local church services and activities

Favorite Running Food

Keep it healthy, simple whole foods—but every now and again, nothing satisfies like a nice med rare slab of beef.

What are you reading now?

Not currently reading anything


Who do you train with?

Myself, but now 4-Seasons

Personal goals

Qualify for Boston w/in next 2-3 years

A quotation you like…

"I know, my God, that You test the heart, and are pleased with integrity." 2 Chron 29:17, from David's prayer after receiving the gifts to build the temple.

Why do you run?

I believe I was born to run.

Describe your best marathon memory.

Hitting mile 16 and just knowing that I was going to break 4, also crossing finish line at Nike Women's and receiving my Tiffany medal on a silver platter by SF's finest (and hottest) fire fighters decked out in Tuxedos.

Why do you pace?

I volunteered for it because I want to inspire others to reach/exceed their marathon goals.

Why should someone run in your pace group?

For a long race like this, it is a mental game, and we mere mortals need the moral support of people who can relate.

Any tips for runners about to join your group?

Steady, keep pressing, don't quit, the end is so worth it. Don't freak out if you lose a couple toenails, it doesn't hurt and they will grow back normally. Walk, stretch, run, get a massage, and even dance like a rock star when you're done—doing all these will actually prevent you from being sore after the race or an 18.5+ run. Also elevate your legs 2-3 inches at when you go to sleep.

What philanthropic activities do you have?

Ran for Arthritis Foundation 1x, 3 time TNT marathoner, contribute to friends and family who raise money through physical activities for different foundations.